Your location > Home > Tire recycling plants > ETS tire recycling plants
ETS tire recycling plants
The ETS Plants are designed for recycling car and truck tires for the production of clean rubber crumb and the separation of steel and textiles. Using normal temperature and non-chemical processing technology, these recycling systems are cost effective and don't create secondary pollution. These plants are intended for customers who require an entry level, small scale tire recycling system with a capacity of 500-2,000kg/hr.
A typical ETS tire recycling plant would include the following components:
• Debeader – removal of the reinforcing steel wires from the tire rims
• Infeed Conveyor Belt – enables easy, controlled feeding of the tires
• Twin Shaft Shredder – shears the tires into strips
• Conveyor Belt – transports the tire shred to the Rasper
• Rasper – reduces the shred into 15-20mm chips and liberates remaining steel from the rubber
• Overbelt Magnet – separation of liberated steel from the rubber chips
• Conveyor Belt – transport the rubber chips
• Granulator – size reduction of the chips to 1-4mm granules and liberates the textile fraction to allow separation
• Vibratory Screen – sorts the granules by size and removes the majority of textile
• Zig-Zag Classifier – removal of remaining textile
• Drum magnet – removal of remaining steel fines
• Big-Bag Station
• Central De-dusting Unit – removes dust and fines from the system and filters the air before returning it to atmosphere
• Control Panel
A typical ETS tire recycling plant would be configured as shown below.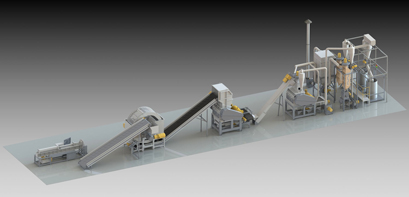 The correct combination and sizing of the above listed equipment will provide a reliable, efficient tire recycling system that will produce a high quality rubber granulate, clean textile and steel ideal for sale, or for use in further processing equipment.
Testing
Prior to delivery from our facility, all our tire recycling plants are set up and tested under "real world" conditions to ensure the plant capacity and quality of the finished products are guaranteed. Customers are welcomed and encouraged to attend these trials to see their plant in operation, receive training on the operation and maintenance of their system, and to see similar equipment in build.